The 2014 Issue of The Fortress Hits the Streets!







By Maurice Ali (Canada)





Toronto, Canada (January 12, 2015) - We have a tradition at our organization that every time we run a news publication we distribute it to the colleges and universities around the area of the head office and if the numbers warrant it we can even go multinational. This magazine format is one of the smaller runs so we just stayed in Toronto, Canada and distributed to a handful of colleges and universities near the head office. What follows are just some snapshots and short summaries of some of the institutions the students could find free copies of The Fortress:



York University






York University is located at the north end of Toronto. I graduated there back in 1984 with a Bachelors of Arts degree in Philosophy. There is still a university newspaper run there called the "Excalibur" and in the photo above you can see our publication below the Excalibur along with Now Magazine on the right and the large national publications on the left. It is strange to still have a presence at a university you used to go to after almost 31 years but there it is.






Ryerson University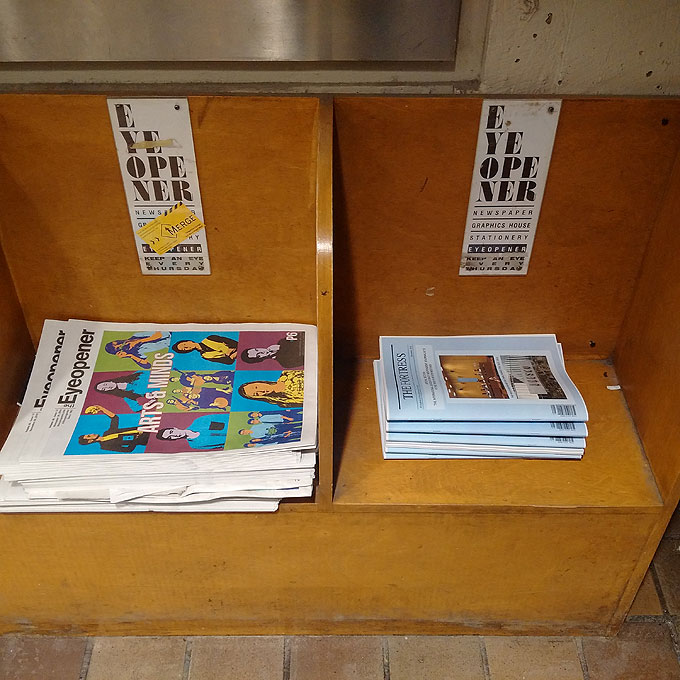 Above you can see The Fortress next to Ryerson's newspaper called the "Eyeopener" which is another full sized newspaper connected to the university. Ryerson University is located in downtown Toronto with many buildings close together over several blocks of downtown space. I also graduated from Ryerson back in 1980 from their business school. So another presence at a university I went to 34 years ago.





University of Toronto






In the photo above is The Fortress at Robarts Library in downtown Toronto. Like the last issue there are no more newspaper or magazine racks at the library near the entrances like there used to be. As little as a few years ago you could also find newspaper boxes for the student newspapers inside the library. But that is no more and our magazine had to be distributed next of a reference terminal near the entrance.




Seneca College







Seneca College is located in several locations in the Toronto area with a main campus one block away from our head office. Like the University of Toronto, Seneca College has very few newspaper racks now and we had to place the paper near an entrance by a window. In the past our newspaper went up against "The Buzz" which was their native newspaper back in the day.

We will distribute more of The Fortress in the weeks to come but those four institutions got the first distribution from the completion of the print run. The Fortress is a print publication published and printed by Fortress Of Freedom Inc. with IAIJ having complete editorial authority over the publication. The publication still carries the newspaper motto "Stronghold of free speech and freedom of thought" and every issue carries the same banner as found in the first issue. The Fortress was first published in April, 2004 and has been in regular production since then.





IAIJ: JOURNALISTS IN ACTION AROUND THE WORLD!