IAIJ To Pursue Consultative Status With ECOSOC (U.N.)!
By Maurice Ali, President: IAIJ Inc.



United Nations Building in New York City!




The International Association of Independent Journalists Inc. is excited to announce (May 7, 2013) its intention to pursue the designation of "Consultative Status" with the Economic and Social Council (ECOSOC) of the United Nations. From the www.un-ngls.org website:



"From the beginning, the Economic and Social Council (ECOSOC) has been the main entry point into the UN system for NGOs. ECOSOC remains the only main UN body with a formal framework for NGO participation. The detailed provisions for NGO involvement in ECOSOC's work can be found in Resolution 1996/31 of 1996.

Consultative Status
There are three different types of consultative status, depending on the level of participation:

General Status: applies to large international NGOs whose interests cover most of ECOSOC's agenda. They may speak before delegates, circulate statements up to 2,000 words long, and place items on the agenda. They must provide a quadrennial report outlining their contributions to the UN.

Special Status: concerns NGOs with "special competence in some fields of activity of the Council." They must provide a quadrennial report, but cannot place items on the agenda. Written statements are limited to 500 words.

Roster NGOs: concerns NGOs with one or more specific issues. They may attend meetings, but cannot speak or circulate statements.

In addition to access to all formal ECOSOC sessions, ECOSOC accreditation also gives NGOs the right to attend special UN meetings such as world conferences.

Today, there are more than 3,000 NGO in consultative status with ECOSOC. A complete listing of these NGOs is available on the website of the NGO section of the Department of Economic and Social Affairs (DESA)."



Applications are only reviewed twice a year so this may take a while. I am confident we now have the prerequisites for a successful application and is the reason why we are pursuing this designation at this time. Any comments are still welcome for members about the application and can be sent to the Board of Directors through the usual channels.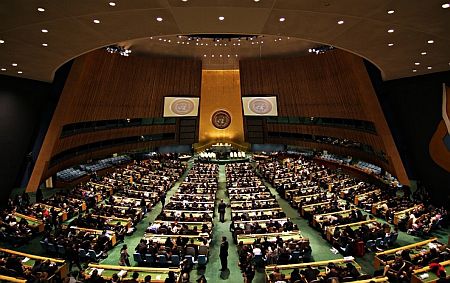 United Nations General Assembly!
IAIJ: JOURNALISTS IN ACTION AROUND THE WORLD!