Another Issue Of The Fortress Hits The Street!
By Maurice Ali, Journalist



Another Issue Of The Fortress Hits The Street!




Well, another issue of The Fortress newspaper... I get the e-mail from the printer, and three thousand copies are on my car! For those new to this medium here; let me tell you about it. The Fortress newspaper is a real newspaper, printed on fifty pound white paper 11X17 in tabloid form and two sided offset print. The newspaper is not available on-line, to read it means you have to possess it and they are free to anyone who e-mails us with an address at: fortressoffreedom@hotmail.com

Why make a real paper? There are several reasons. The first is that a tangible paper gives our organization a legitimacy that only large organizations typically have, real newsprint is more easily sued and therefore has more respect as "news" than an internet paper. The traditional paper is definitive proof that our journalist that post those reports, are journalists and that paper is the proof! It is also fun to physically distribute the paper and have first hand reinforcement of people enjoying the paper by seeing the paper enjoyed in-person! Finally, it is nice to follow in the grand old tradition of printing a traditional paper like so many before us all over the world! That newspaper is our only true free-speech tool we have and is protected by the Canadian Constitution; as such, the paper is very important to our organization.

This report will not be finished for a few days so check it sometime later in the week. For now I am preparing a few stacks of the paper for immediate distribution to the various journalists in my area, the rest will be mailed or distributed to universities in and around Ontario and the U.K. - specifically - London. Below you see the reception of the Fortress Of Freedom Corporation as I rush fresh newsprint to folk in my area!




One sad note though: Norman Waddingham, decorated W2 War Vet; died from complications from surgery about a week ago. We wrote about him on our VE Day report. It was one of Mr. Waddingham's requests that he be given a copy of the paper when we printed it. What luck and heartbreak as I found out about his death from a fellow employee who recognized him in the paper... Our condolences to his family on there lost and to Canada's lost of a great war heart. Rest in peace Norman Waddingham.




More news as it unfolds.....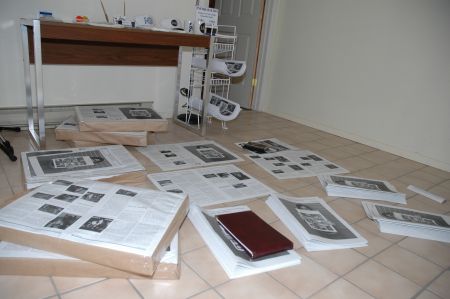 Preparing the newspapers!